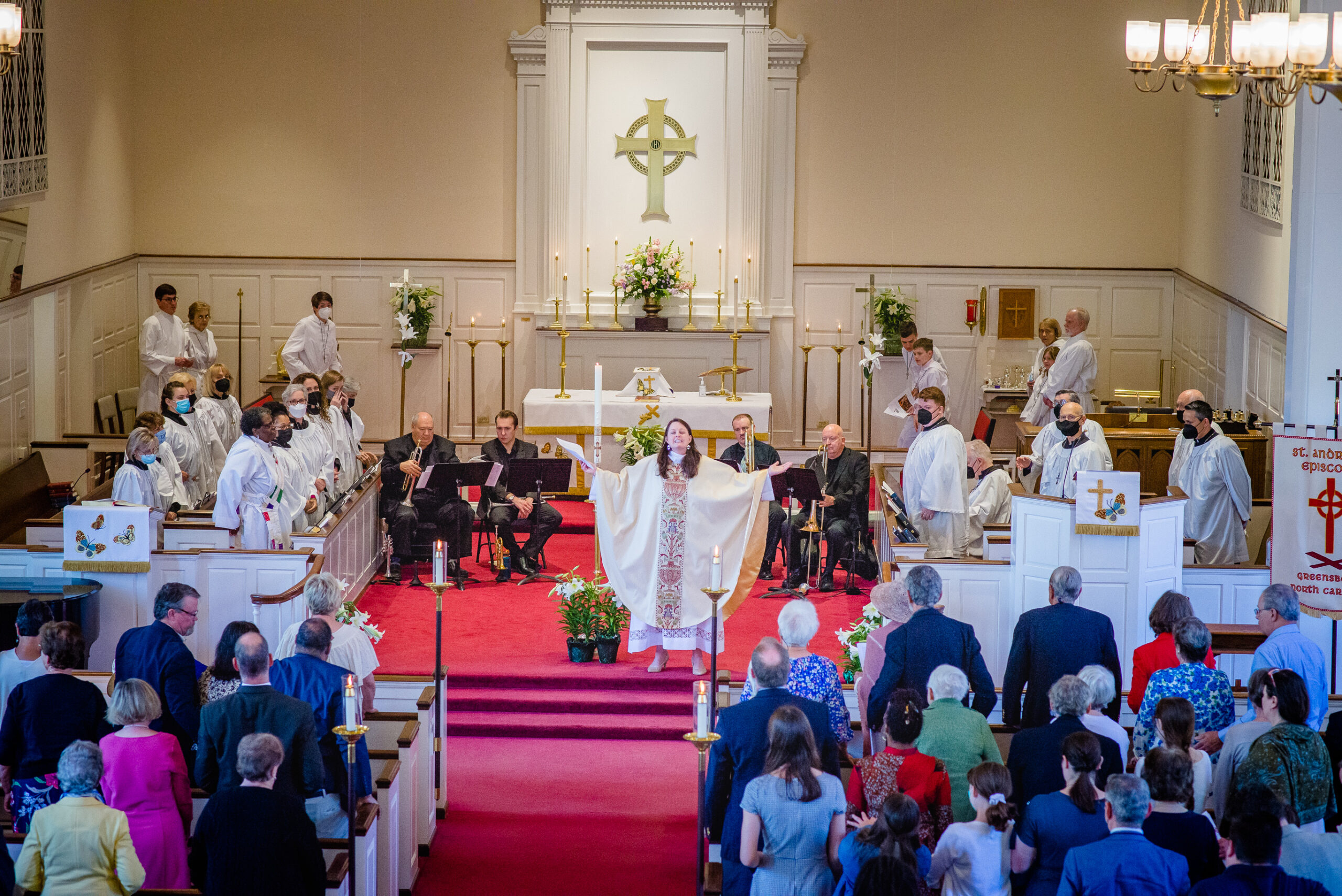 Welcome to St. Andrew's Episcopal Church!
Sunday Worship – 10:00 AM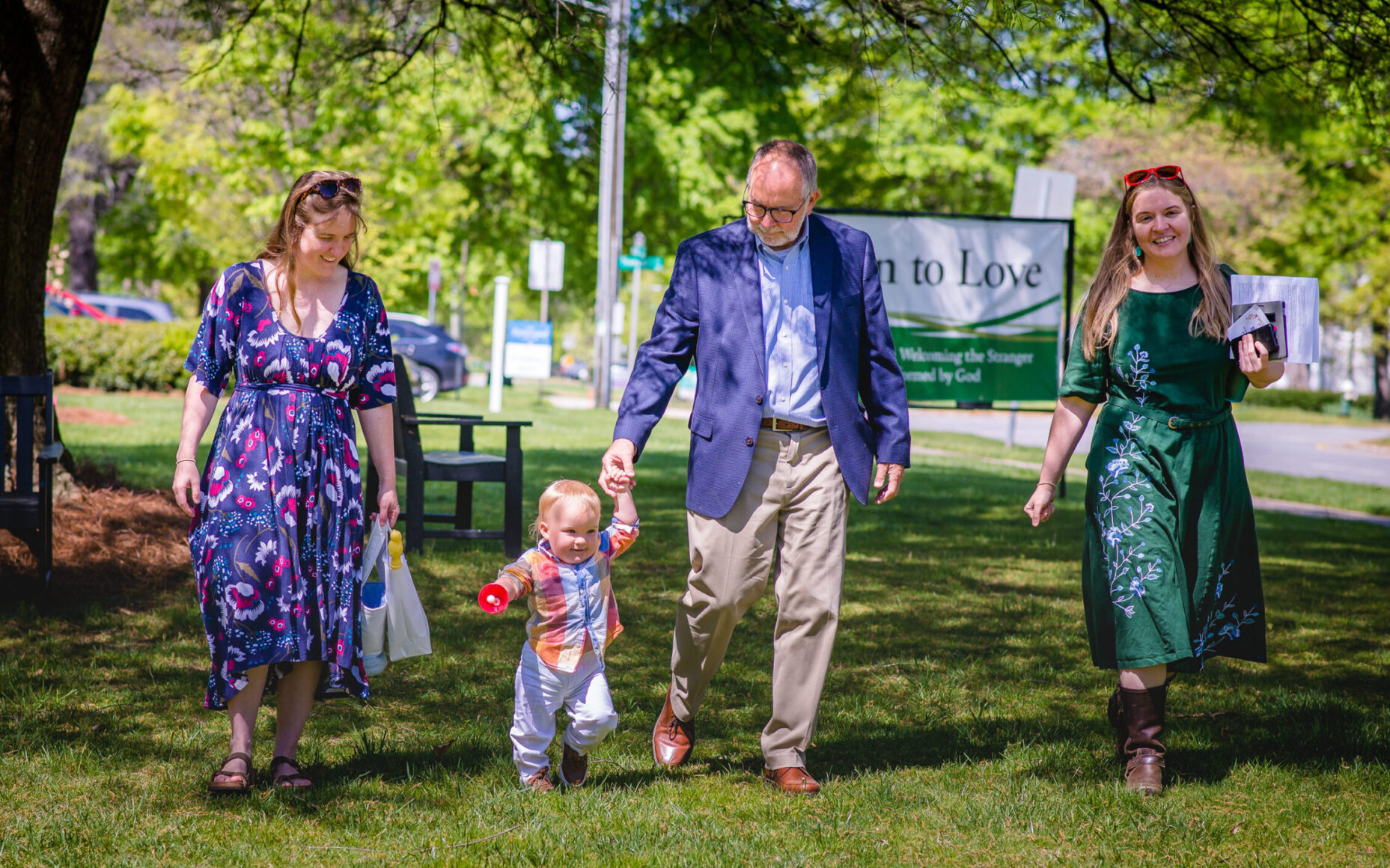 Join our church family!
Come worship with us!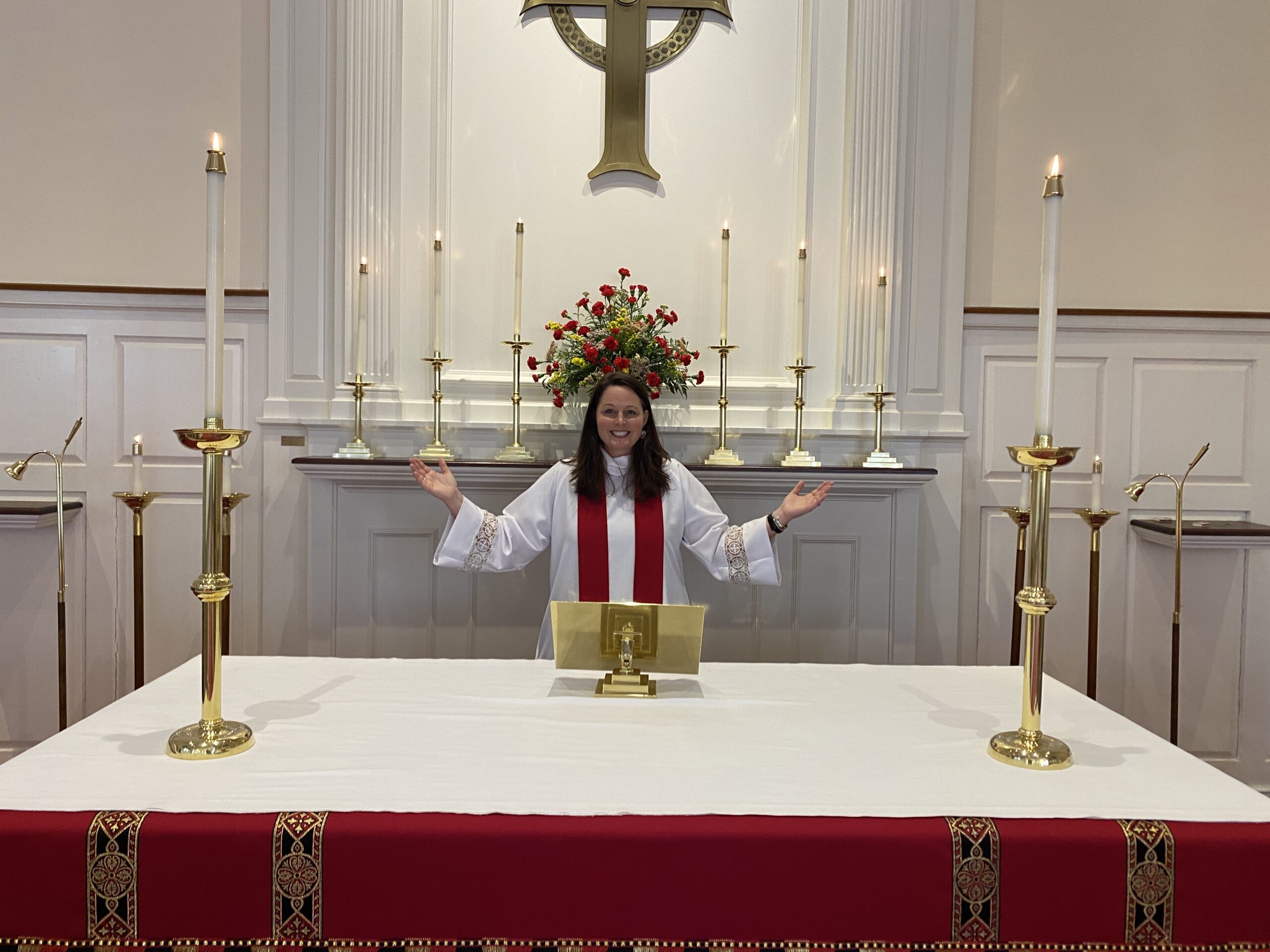 This is God's table, and all are welcome here.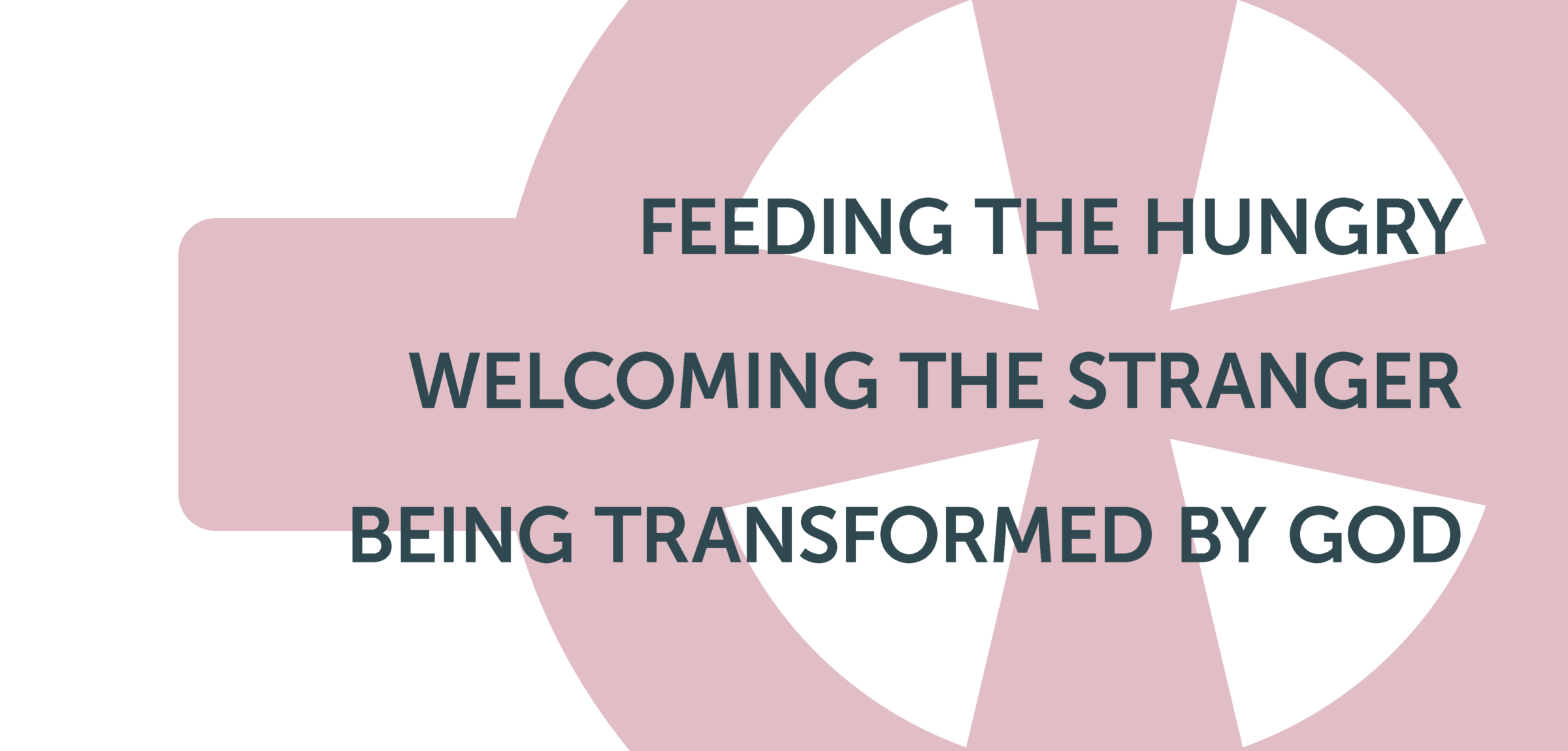 Sunday Worship Service: 10 AM
______________________________
Church Information
2105 West Market Street
Greensboro, NC 27403
336-275-1651
Our chapel is open weekly for prayer and meditation on Tuesdays from 11 AM–2 PM.
Our church office is currently open Tuesday–Thursday from 10 AM–2 PM and by appointment. You may reach the office by phone or email Monday–Thursday.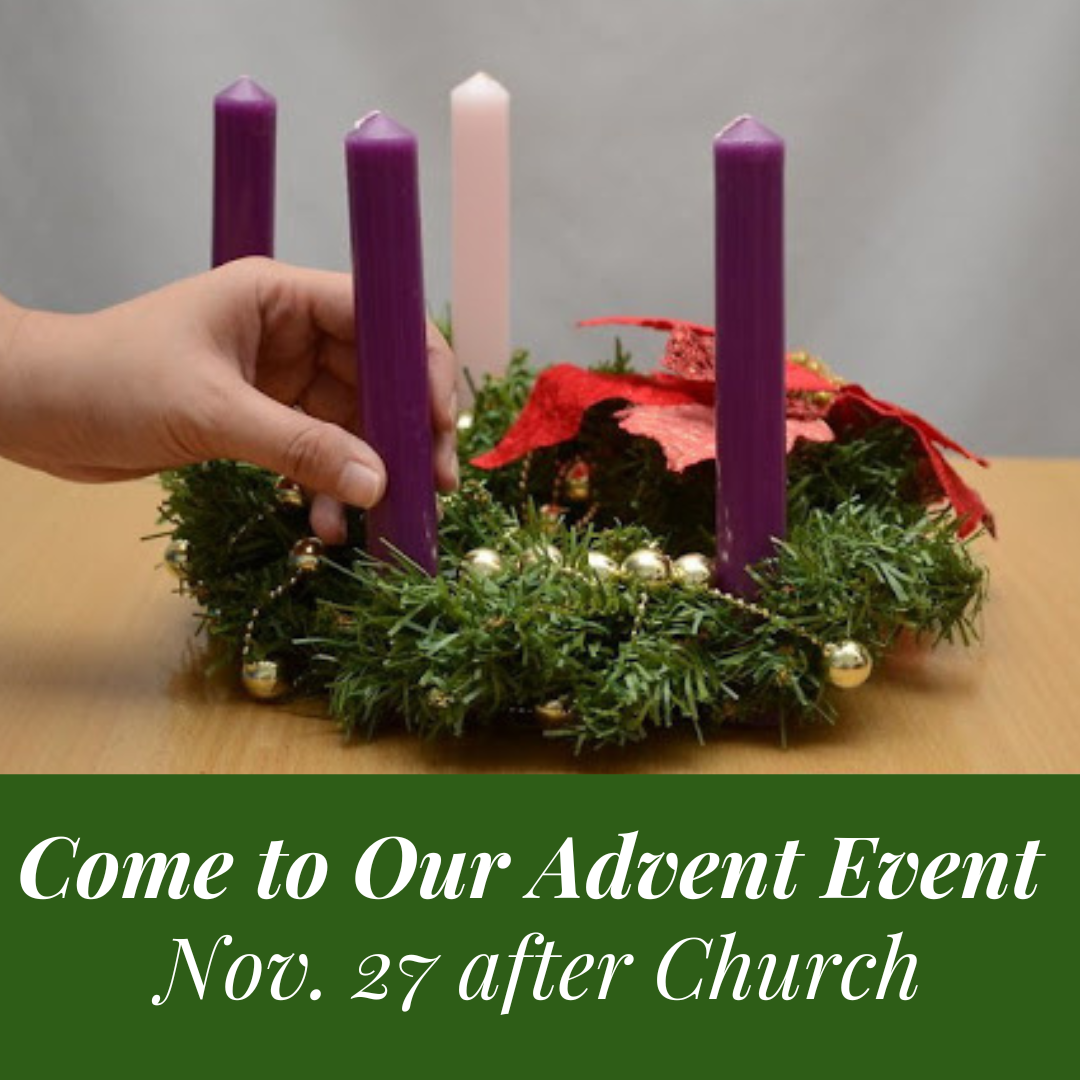 Pilgrimage: The Gift of Transformation, Message from Our Rector
Pilgrimage: The Gift of Transformation
A Message from Our Rector
As Thanksgiving nears, I have been thinking about how gratitude shapes us. I am thankful for this community of faith that encourages me to grow and is always challenging me to deepen my relationship with God and neighbor, to expand what love looks like in my life.  
Our St. Andrew's Pilgrimage to Selma and Montgomery: A Journey of Justice and Healing this January 17–20, is designed to open us to God's presence and direction. It is an intentional journey towards transformation that we are making in community, confident that when we gather in God's name, God will be in our midst. 
The pilgrimage includes visits to historic sites, thoughtful worship, lodging, and several meals, as well as transportation in a luxury motor coach that promises to be memorable. Join us! The registration deadline is December 1 and the payment deadline is December 15. St. Andrew's has subsidized the trip and there are additional funds available if cost is a hardship. To register, click on the button below.
We are committed to racial justice and healing and are glad you are walking this way of Jesus' love with us.
In Christ,
Rev. Ginny Bain Inman
Registration is open for our pilgrimage to Montgomery and Selma, Alabama, January 17–20, 2023, and our registration deadline is December 1. For details and to register use the buttons below. We also are engaging in study and fellowship to prepare. Join us in the Cloister this Sunday, November 20, at 4 p.m. for our next session.
First Sunday of Advent with Advent Event, Nov. 27
Come to Our Advent Event, November 27 – Sign Up for an Advent Wreath Kit
Advent is the special season of the church year when we prepare for the coming of Christ. We will host an Advent Event on the First Sunday of Advent in the Parish Hall after church. Everything you need to make your own Advent wreath will be provided, and we'll enjoy fellowship and conversation while we build our wreaths together. A donation of $10 per wreath-making kit is suggested but not required. Please RSVP to Martha so we can reserve a wreath kit for you!
P.S. If you have garden cutters, plan to bring them to make the greenery arranging easier.
Sign Up for Las Posadas and Host the Holy Family
Each night of Advent, a carved holy family will travel from parish household to parish household recreating Mary and Joseph's search for a place to stay as they traveled to Bethlehem. The requirements are simple: be willing to open your home to the holy family, care for them for 48 hours, and deliver them to the next household. This is an opportunity to practice hospitality, to reflect on the meaning of season, and to make space for Jesus to be born anew.  
Second Sunday of Advent with Visit from St. Nicholas, Dec. 4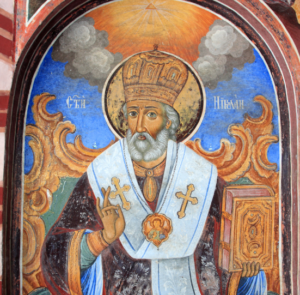 December 4 Brings Visit from Saint Nicholas and Parents' Time with Mother Ginny
During our worship on December 4, the Second Sunday of Advent, we will welcome Saint Nicholas, complete with his traditional gift of chocolate coins, ahead of his traditional feast day on December 6.
After worship, parents are invited to join Mother Ginny in the Library for coffee and informal conversation. December, with its multiple demands and expectations, can be a particularly tough month for parents. Please join us, whether you are feeling jolly or not! Youth can hang out in Herman Hall, while children are welcome to explore the playroom and nursery. Our nursery staff will stay over that day to give parents time to chat.
Hope for the Holidays Gift Drive, Dec. 4 and 6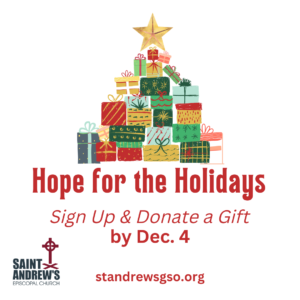 Sign Up Here to Donate Gifts for Children's Home Society
Please bring gifts to church on Dec. 4 or by Dec. 6.
Once again, we will be joining with Hope for the Holidays, an annual gift drive for children in foster care, sponsored by the Children's Home Society. For many years we have engaged in this ministry in conjunction with our celebration of St. Nicholas who blesses the gifts we send off for these children.
We ask that unwrapped presents be delivered to the church on Sunday, December 4, for the blessing. If you can't come to church that day, please deliver to the church office on December 6, 10 a.m.–2 p.m. Thank you in advance for your generosity and for helping to provide a joyful holiday season to children in need.
Please contact Martha Chaires if you have questions or need to arrange for an alternate drop off time.
Third Sunday of Advent with Lessons and Carols Service, Dec. 11
The Lessons & Carols service in the Anglican tradition began in 1878 and was formalized as a Christmas service in 1880 by the Bishop of Truro, later Archbishop of Canterbury, Edward Benson. An Advent version of the service developed slightly later at King's College in England and is now celebrated around the world, normally done one of the first Sundays of Advent. 
The service consists of scripture readings interspersed with choral presentations and hymns, all of which recall mankind's longing for liberation from sin and death, and our hope and expectation for the coming of Christ the Lord. Through our experience of sacred Word and music, the story of the coming of Christ gradually unfolds and deepens our understanding of God's message of love and redemption. This year, our traditional Advent Carol Service of sacred Word and music will be led by our choir, organ and guest harpist, Bethany Lancaster. 
May the words and music of this service propel you quietly toward the true joy of Christmas.
Daily Advent Devotional Available as Booklet and Online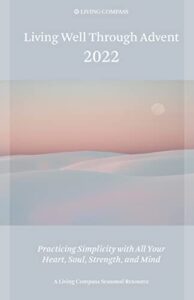 How can we practice simplicity as we wait the coming of Christ and new life this season? Living Well Through Advent is a daily devotional with the theme "Practicing Simplicity With All Your Heart, Soul, Strength, and Mind." Copies of the booklet are available at church, and you can receive these devotions as daily emails, if you prefer.
Additional online Advent offerings include the AdventWord daily meditations subscription from Forward Movement, and Kate Bowler's Advent: The Season of Waiting (And Waiting… And Waiting) which can be downloaded as a PDF.
Fourth Sunday of Advent and Birthday Party for Jesus, Dec. 18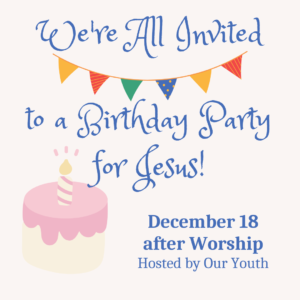 We invite kids (and adults!) to join us in the Parish Hall right after worship on December 18, the fourth Sunday of Advent, for a Birthday Party for Jesus, led by our EYC! We'll have cupcakes to decorate, crafts, and other fun opportunities to celebrate. Note that this is a time change from our original event, which was scheduled from 5-6:30, as we want to be sure all of our children from small to tall are able to attend before bedtime. 
Christmas Eve Services, Dec. 24 at 4 p.m. and 7 p.m.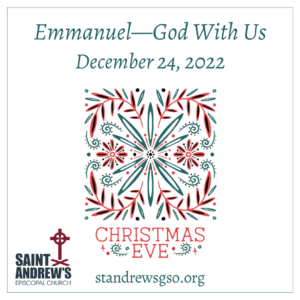 On December 24, join us for a joyous Christmas Eve service, complete with a Popup Pageant and our children's choir debut. No rehearsal is needed, and kids from birth – teen are welcome to star or help out in the pageant.
Christmas Day Worship, Dec. 25 at 10 a.m. - "Come as you are!"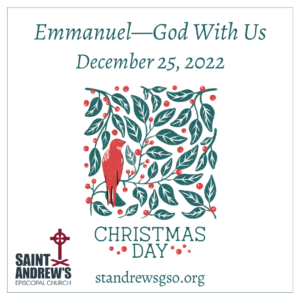 On Sunday, December 25, we'll have a Come-As-You-Are Christmas Service with carols and morning prayer. Pajamas and slippers are welcome!
Deck the Halls, Dec. 3 (10-3) -- Updates & Opportunities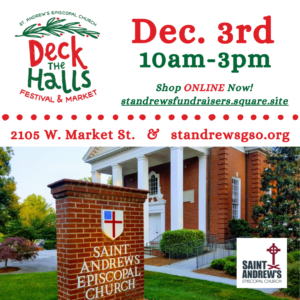 Deck the Halls is St. Andrew's annual fundraising effort for mission and outreach. This year's event is Saturday, December 3, 10 a.m.–3 p.m. All are invited to support preparations, spread the word, and join us December 3.
Our Online Shop Is Open through November 26
The Deck the Halls online store offers easy access to favorite specialty items. Fresh wreaths and centerpieces, Christmas chili, homemade seasonal cookie sets and gingerbread house kits, and honor cards supporting community service organizations all are available now at the click of the button below.
It's Ba-a-a-c-k! The Deck the Halls Wine Pull
A favorite Deck the Halls feature, the Wine Pull returns for 2022. For each cork purchased, festivalgoers choose one bottle of wine, worth anywhere from $15 to $70! You can help by donating one or more bottles of wine, each with a minimum value of $15. Not sure what to choose? Let the staff at Bestway on Walker Avenue help. Please leave donations in the designated box by the church office, or call Marcia Moore to make other arrangements. Our goal is to sell at least 150 bottles this year.
Share Your Nativities for Our Exhibit
Will you lend your nativity or crèche to the nativity exhibit for Deck the Halls? The nativities anchor Deck the Halls with a display of sacred art and have been a spiritually satisfying offering to visitors to St. Andrew's. Mother Ginny will conduct a brief service on December 3 to bless all the nativities in the chapel. If you have one to share, please contact Corinth Milikin.
Be the Light--Please Submit Your Pledges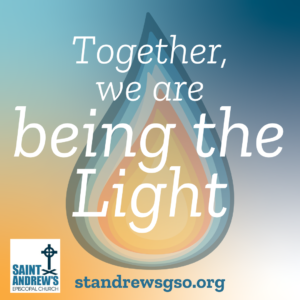 Jesus reminds us that we are called to be the light of the world. During our Be the Light campaign, all are encouraged to reflect on how we can give of our time, talent, and treasure to celebrate and share God's light as a community of faith and followers of Christ. Please contact Susan Frye if you need a pledge packet. You may also submit your pledge using the online form if you prefer. May we join together to give generously so that St. Andrew's can be a beacon of Christ's love in the world around us.
Feed the Hungry by Filling a Burgundy Bag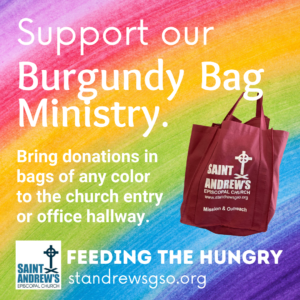 To fulfill our mission of feeding the hungry, the Outreach Committee supports an ongoing collection of canned goods and nonperishable food items. Please help yourself to a burgundy reusable grocery bag on Sunday morning and bring it back with items to be donated. You may also pick up and drop off bags in the Chapel hallway. Weekly distribution to One Step Further Food Pantry, our partner agency, is year-round. Thank you for remembering to "Bring a Bag and Take a Bag" each week.
Feed and Be Fed—Corner Market and One Step Further Food Pantry

The Corner Farmers Market
Saturdays, 8 AM – 12 noon, on the corner of W. Market and Kensington Streets
Worldwide, outdoor markets have flourished during the pandemic. That has certainly been the case here in Greensboro. Since moving to our parking lot, the Corner Market has welcomed new vendors and customers. The relocation could not have gone better, and the market is providing a connection point that's open to everyone in our community, a connection that is so vital for many of us during this time—and all the time. Follow the Market's Facebook page, or subscribe to the newsletter on their website for the weekly list of vendors.

One Step Further Food Pantry
This food pantry, started at St. Andrew's and now housed at First Christian Church across the street from us, needs volunteers for a variety of tasks including deliveries and making phone calls (which can be done from home). If you can help, please contact the director, Susan Cox, at scox@onestepfurther.com.